---
Blue Thistle Flowers by the Bunch
Stem Count: 7-10 stems, Growers Bunch


**buds can be large or small, depends on season

Season: All Year
Flower Design Type: Texture Flower
Pros and cons of blue thistle for weddings:
Pros: The texture of these silvery-blue thistle provides an elegant, stylistic touch to any floral arrangements.
Thistles are strong, durable flowers that work well for boutonnières, bouquets and centerpieces.
The texture balances out masculine with the feminine to create eye-catching, visual interest. Plus, this bloom makes for an unexpected surprise.

Cons: For the most part, this flower is well-behaved. While these can shed white pollen occasionally, they generally cause no problems at all.
Care Instructions for Blue Thistle
Give the stems a fresh cut, and place in cool water.

Keep away from heat or sun to extend vase life.

Remove leaves below waterline
Thistle is a 'Texture Flower'. Based on our design suggestions here's our quantity recommendations:
Bridal Bouquet: 1/3 bunch
Maids: 1/4 bunch
Bouts: 1 stem
Corsages: 1-2 stem
Centerpieces: 1/4 bunch
Large Arrangements:

1-2 bunches
Flower Moxie reserves the right to make changes or substitutions. All substitutions are only done as a last resort, and only when the reasons for doing so are reasonable and genuine. For example, if a flower becomes unavailable (off-crop), incorrect color, or not in good condition to grace a wedding function we will substitute a flower that has a similar color and price-point.
Acceptable Subs: Another textured element that works within your specific color palette.
---
DIY Brides love thistle for it's dusty blue color and texture. Thistle is extremely hardy, durable, and works for all floral arrangements.
Blue thistle flowers boast blue, raspberry-shaped blooms surrounded by thin green leaves. Seeing as they're part of the thistle family, they do feature some gentle-looking spikes.
This flower makes for a fascinating floral accent and adds a subtle touch of color to any floral display.
Blue thistle flowers are perfect for wedding bouquet accents, centerpiece displays and solo bud vases, too. Depending on the look you're going for, you might consider adding a few blue thistles to your white flower arrangements. You can also pair them with other colored blooms for a playful yet sophisticated floral experience.
---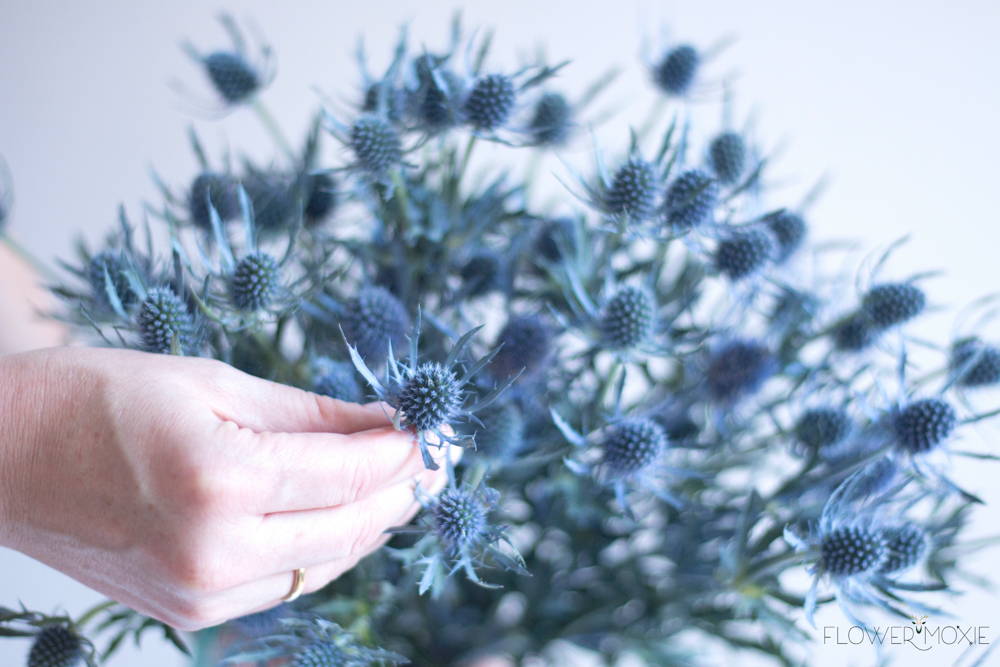 ---