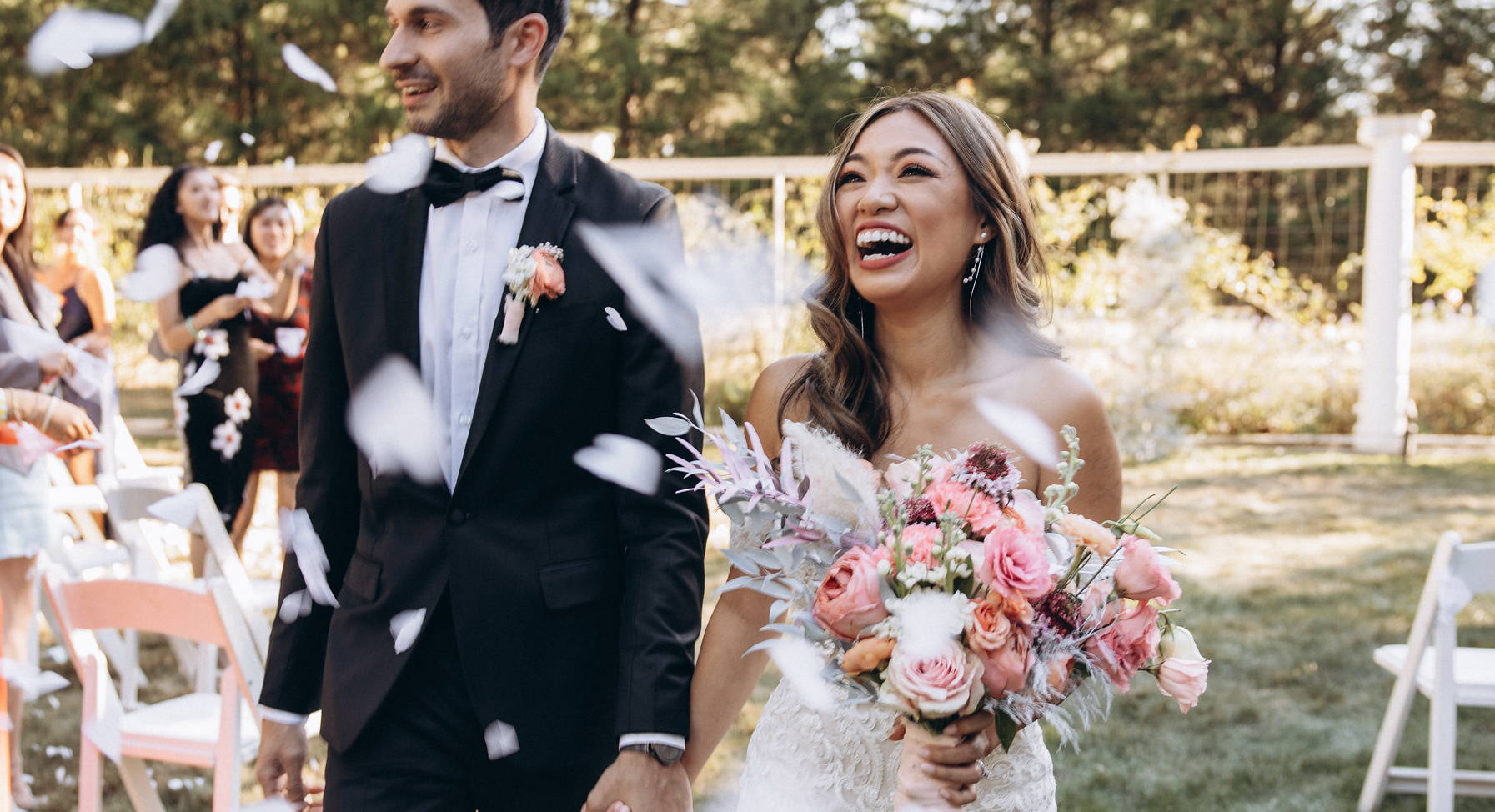 Ready to DIY? Here's how it works: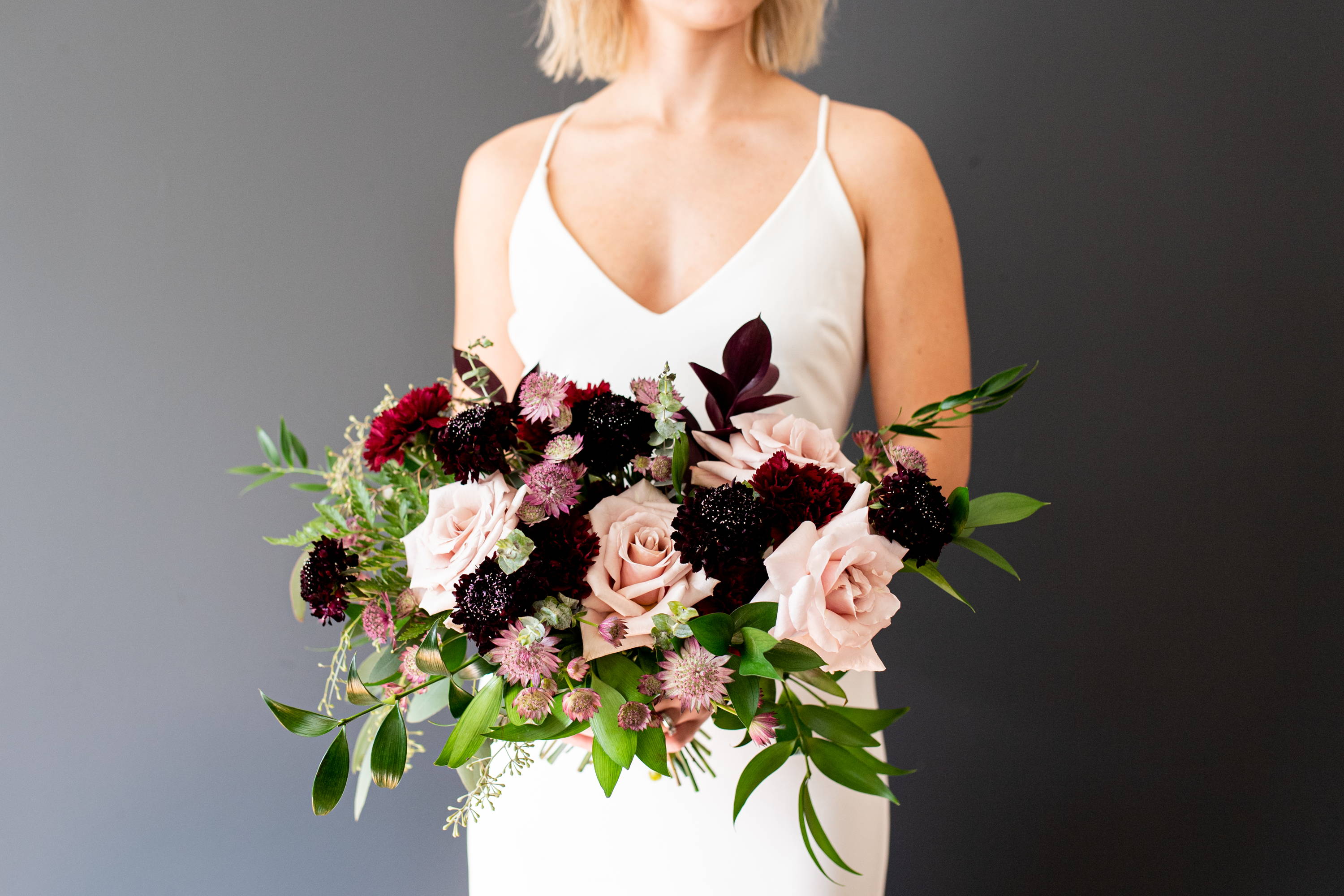 ---
You're gonna break all the hearts. After checkout, enjoy Kanye-level access to:
Exclusive, full length DIY tutorials – for customers only!


A DIY course that outlines every step and boob sweat sitch - also exclusive to customers only!


Freakishly responsive customer care (who loves you better than we do?!)



Florist-grade blooms at half the price
Step 2: Build Your Floral Empire
---
Recruit your assembly team, stock up on White Claw, and get ready to shout GIRD YOUR LOINS as you unbox floral nirvana.
Your flowers arrive 3 days in advance, so Wednesday for a Saturday wedding.


Day 1, you prep. Days 2-3, you design. Day 4, YOU GET MARRIED.



Stick to our instructions and your flowers will look like something out of Crazy Rich Asians.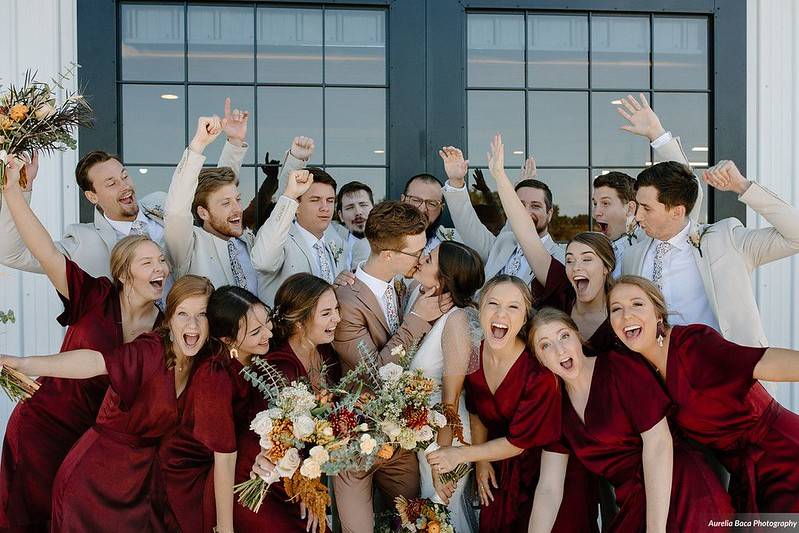 Step 3: Brag Your Face Off
---
Your nanna is going to pass out when she hears you did your own flowers, drunk.
Major wedding highlight – SO MANY customers tell us that making their bouquets with their family was the best memory of their wedding week


Float down the aisle knowing your guests are totally eye-oogling your designs



Enjoy months and months of braggy Insta posts
---
Your heart is JACKED but your armpits are SPICY.
We've been at this DIY biz since 2013, so breeze through the below to chill your inner monologue about how DIY'ing really works.
---
Q: I'm on your site, picked my flowers, built a cart, found a weird hair on my nip... What am I supposed to do next?  
A: Ain't no shame in tweezing the girls.

We recommend placing your order 2-6 months before your wedding date.

The latest you can order is 2 weeks before your event date, but we don't prefer last-minute orders because YOU need time to get prepared. Also, ordering last-minute increases the chance of floral substitutes when sourcing high-demand flowers.

Ordering a bit in advance will give you lots of time to round up your supplies, recruit some helpers, and ogle our tutorial videos.
Q: Great, but when do I get my flowers? Does overnight shipping mean they will arrive TOMORROW? I'm sweating.
A: We feel you, but there's no way we're shipping out your flowers tomorrow!

We are FREAKS about capturing your delivery date AND your event date at checkout.
Your delivery date is 3 days BEFORE your event. (So a Wednesday delivery for a Saturday wedding.) We do this to allow ample time for your flowers to open and to give you 2 whole days to knock out your designs.  
Sidenote: We have several pick-up locations across the US; if you are able to snag your blooms in person, your 'delivery date' will actually be your 'pick-up date'. After checkout we will send you a confirmation, address, and all the deets!
Q: Okay but will the flowers actually last 3 days? And what if I only need 1 day to put them together?
A: These are not the cries for help you see wilting in the grocery store cooler. These are fresh, florist-grade, unprocessed blooms.

They will arrive looking like tight, tantrummy baby fists – give 'em a day to open and use the other 2 days to rock your designs. They'll continue to open as you arrange.
If you only need 1 day to arrange, spend the other day drinking.
For the record, our founder, Amy McCord Jones, has been a floral designer for over 12 years. She ALWAYS ships in her blooms 3 days in advance because she likes the flowers to blow out and hit their max potential (unlike the asshats she dated in her twenties).
Following our directions and putting time, love, and care into your flower prep will result in KILLER arrangements on your wedding day.
Q: What should I expect in regards to shipping? Is it weird that I'm kind of afraid to open my flower box? 
A: We have several shipping methods and direct pick-up locations, so it's helpful to familiarize yourself with the options in your state before checkout.  
If shipped, you will receive your tracking number the day before or the morning of.
If you live in proximity to one of our wholesalers, you will pick up your flowers directly like a total baller. You'll meet our rep, side-eye the flower cooler, and see how the sausage is made.
Either way, your flowers will be wrapped and packed tightly in a box (they pack it tight to avoid shifting). Some may have ice packs, some may not, it's up to the wholesaler. You will receive between 1-3 boxes depending on your order size.

It's totally normal to not be wowed when you unpack. Everything is gonna look whack until you prep, like Mia Thermopolis before she got waxed.
Q: What's included in my box(es) of flowers? 
A: Tightly wrapped flowers. AND ALL THE PACKING PAPER. Since you're being your own florist, you are receiving fresh, unprocessed flowers. There will be some leaves, thorns, a few uggo petals and broken ones, and you will feel a little bamboozled. Like seeing your one-night-stand in the daylight.

BUT WAIT! Unlike your 2am romp, these flowers will stun you. The magic happens once you unwrap everything, hydrate the stems, and allow plenty of elbow room to blow out the blooms.
IMPORTANT SIDE NOTE:  Make sure you dumpster dive through all of your paper packing, as delicate flowers are often wrapped and hiding.
All supplies, vases, and dried flowers (if ordered) will be shipped separately and weeks ahead of time.
Tip! We offer printable prep instructions and flower recipes on our site. Once you process and prep your flowers, we suggest you start sectioning out your floral recipes. It makes the design process quick and easy for your (most likely drunk) helpers.
Q: What do I do with the flowers when they arrive?
A: OBSESSIVELY FOLLOW OUR DIRECTIONS LIKE THAT ANNOYING KID IN SCIENCE CLASS WHO WAS FAR TOO RESPECTFUL WITH THE BUNSEN BURNER. You've spent a butt-load on these blooms so you have to treat them right because they are not the indestructible cockroach-level filler flowers you'll find at the grocery store. Professional blooms require special care.  
Watch this video, sissy. It will tell you everything you need to know.
If you don't enjoy the sound of Amy's voice (*tear), here's a printable.
Q: How many buckets will I need for this bish? And what supplies should I get?
A: Since we are obnoxiously hand-holdy, we provide all of those details in each of our Collections. If you're forgoing our Collections and free-balling it, we've built two quizzes to tell you EXACTLY WHAT YOU NEED.  
(insert quiz buttons)
All supplies are sold - and shipped - separately on our site.
For hydration buckets, we recommend short, plastic bathroom trash cans that you can find in the unsexy corners of The Dollar Store or Walmart. Resist the urge to buy deep Home Depot buckets.
Q: Anything else I need to know before I commit to DIY flowers?
A: Yes. You're going to have the best time ever. DIY-ing your blooms is not only a great way to save money, it is a crazy-fun activity to do with your besties. Also, it's a great place to put all that nervy energy leading up to your big day!
Everyone's logistics and thresholds are different, though, so read on before hitting the order button:  
DESTINATION, WEEKDAY, OR HOLIDAY WEDDING: The above mentioned scenarios can make DIY'ing your blooms tricky. Email with your situation for us to best determine if DIY is a fit!


IF YOU'RE TOO LAID BACK: You have to read up on the education for baller results. You have to do your part. If that ain't you, you may want to go another route.


IF YOU'RE TOO HIGH STRUNG:  On the flip side, if you are a hardcore perfectionist, this may bust your balls. Fresh blooms require a degree of flexibility - this is art, not Microsoft Excel.


FYI:  Your flowers will be legit, but you will have some fuglies in the bunch. It's just Momma Nature doing her thang. Expect a normal loss of 5%. Don't fall apart if you break a rose, just decapitate that bish and put the petals in a flower girl's basket! Problem solved.