---
Craspedia Flowers by the Bunch
Pros and cons of billy balls for weddings:
Pros: Billy balls are incredibly hardy, durable and fun to design with. Use them to highlight your boutonnières, corsages, bouquets and centerpieces.
They appear, dry-looking, yellow and delightfully round — one of the most appealing characteristics of this unique floral bloom is its subtle yet sunny color. Sometimes, yellow flowers can be overpowering, but Billy balls are more of a dull, warm yellow.


Cons: If you're looking to create a more sophisticated floral display for your wedding, Billy balls may not be the best option. These flowers tend to be betters suited for light-hearted, casual ceremonies.
Flower Care Instructions for Craspedia/ Billy Ball Flowers:
Give the stems a fresh cut, and place in cool water.
Billy Balls are considered an 'Texture Flower'. Based on our design ratio suggestions here's our quantity recommendations:
Bridal Bouquet: 5-10 stems
Maids:

3-5 stems

Bouts: 1-2 stems
Corsages: 1-3 stems
Centerpieces: 3-5 stems
Large Arrangements: N/A , too small
Flower Moxie reserves the right to make changes or substitutions. All substitutions are only done as a last resort, and only when the reasons for doing so are reasonable and genuine. For example, if a flower becomes unavailable (off-crop), incorrect color, or not in good condition to grace a wedding function we will substitute a flower that has a similar color and price-point.
Acceptable Subs: Yarrow, yellow carnations, or a textured item that works within your specific palette.
---
There is nothing on earth happier than a cluster of yellow Billy Balls! They are a DIY favorite for their fantastic texture and bright pop of yellow!
Billy balls are like little spheres of sunshine. They're big enough to light up your floral displays and small enough not to overpower the other colors in your floral arrangements. Their tall, thin, green stems help them appear as if they're floating in the air. They cluster beautifully together and stand elegantly on their own, too.
Some of the best ways to use Billy balls include placing them in your favorite vase, adding them to your wedding day boutonnières or corsages or highlighting your floral arrangements by scattering them through-out. Billy balls will add a touch of color and happiness to any bloom display.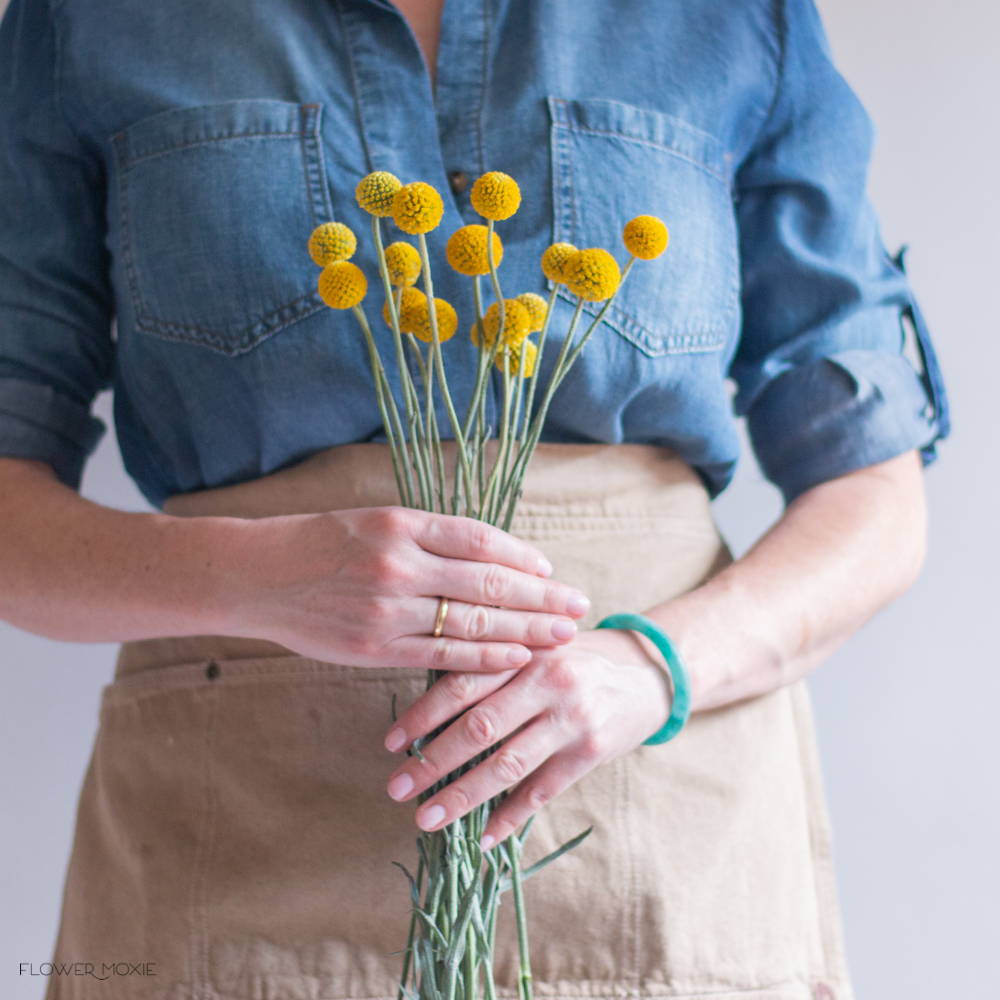 ---
---