---
Seeded Eucalyptus by the Bunch
Pros and cons of seeded eucalyptus for weddings:
Pros: Seeded eucalyptus are one of the most popular green floral additions in the world. The seeds provide an irresistible texture and subtle sage color. They work incredibly well in boutonnieres, corsages, bouquets and everything in between.


Cons: Come late spring, April-June, eucalyptus seeds become large and dark and in the 'cupped' stage of growth which might throw off the look you're going for. In addition, at the start of the new growing season, the seeds appear small and dainty. While this is something to be aware of, it by no means ruins the eucalyptus look!

This plant also tends to be a bug's favorite As a result, it's common to see some "chewed" leaves here and there. You can fix this easily by plucking off the affected leaves.
Care Instructions for Seeded Eucalyptus
Give the stems a fresh cut, and place in cool water.

Remove leaves below waterline
Seeded Eucalyptus is considered a 'Greenery'.
Based on our design suggestions and this greenery's specific bunch size, here's our quantity recommendation:
Bridal Bouquet: 1/3 bunch
Maids: 1/4-1/5 bunch, depends if there will be other greens involved
Bouts: Sprigs
Corsages:

Sprigs

Centerpieces: 1/4-1/5 bunch, depends if there will be other greens involved
Large Arrangements:

1-2 bunches
Flower Moxie reserves the right to make changes or substitutions. All substitutions are only done as a last resort, and only when the reasons for doing so are reasonable and genuine. For example, if a flower becomes unavailable (off-crop), incorrect color, or not in good condition to grace a wedding function we will substitute a flower that has a similar color and price-point.
Acceptable Subs: A different Eucalyptus or another greenery specific to your palette and order.
Seeded eucalyptus is not available in the spring, typically from April to June, due to being in its "cupped" stage (see below).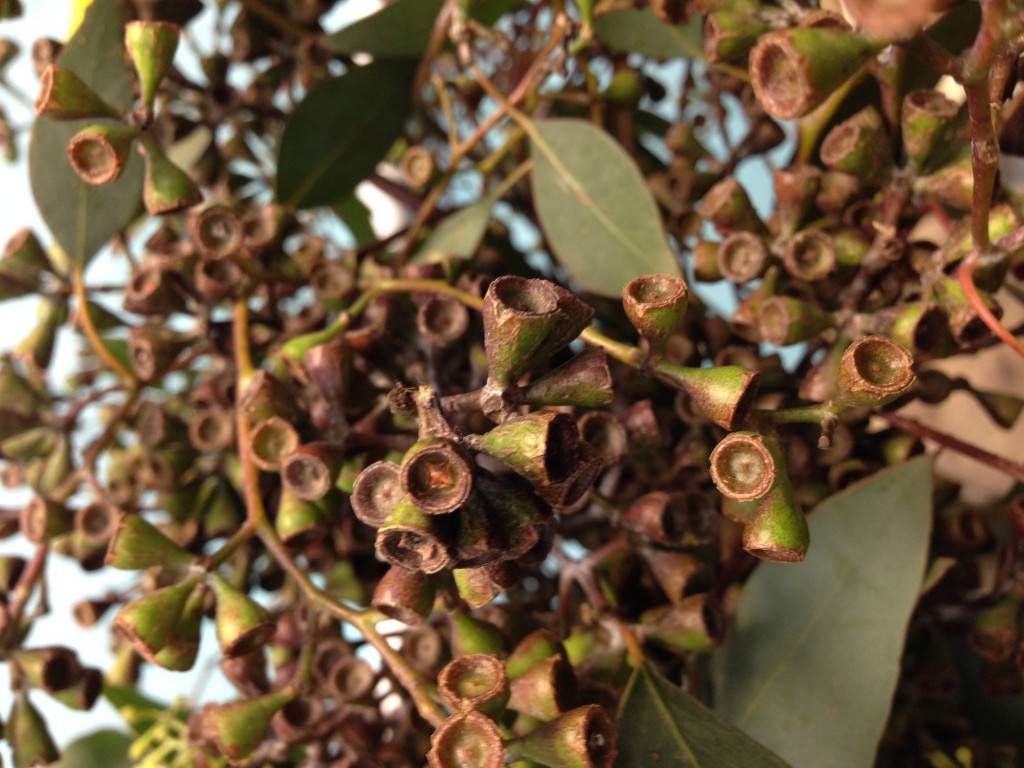 ---
---
DIY Brides love Seeded Eucalyptus for it's sage leaves and textured seeds! It's perfect for any type of floral arrangement. Very hardy and easy to work with!
These elegant, seeded eucalyptus branches add a beautiful and alluring floral effect to centerpieces, bouquets and boutonnières. Plus, their green, oval-shaped leaves act as the perfect accent to colorful blooms. Since these leaves enhance every kind of floral display, it's always smart to have some on-hand.
The best uses for seeded eucalyptus present themselves in a wide range. While these seeded leaves look stunning on their own, they'll also take your floral bouquets to the next level. These green leaves pair perfectly with cream, pink, purple, blue and orange flowers.
If you're positioning a flower arrangement in the middle of every table, adding a few branched of seeded eucalyptus will capture the attention of your guests.
No matter how you choose to highlight this floral element, we promise your wedding attendees will leave with an unforgettable floral experience.
---