Pssst... all the photos on this page are of real Moxie Brides!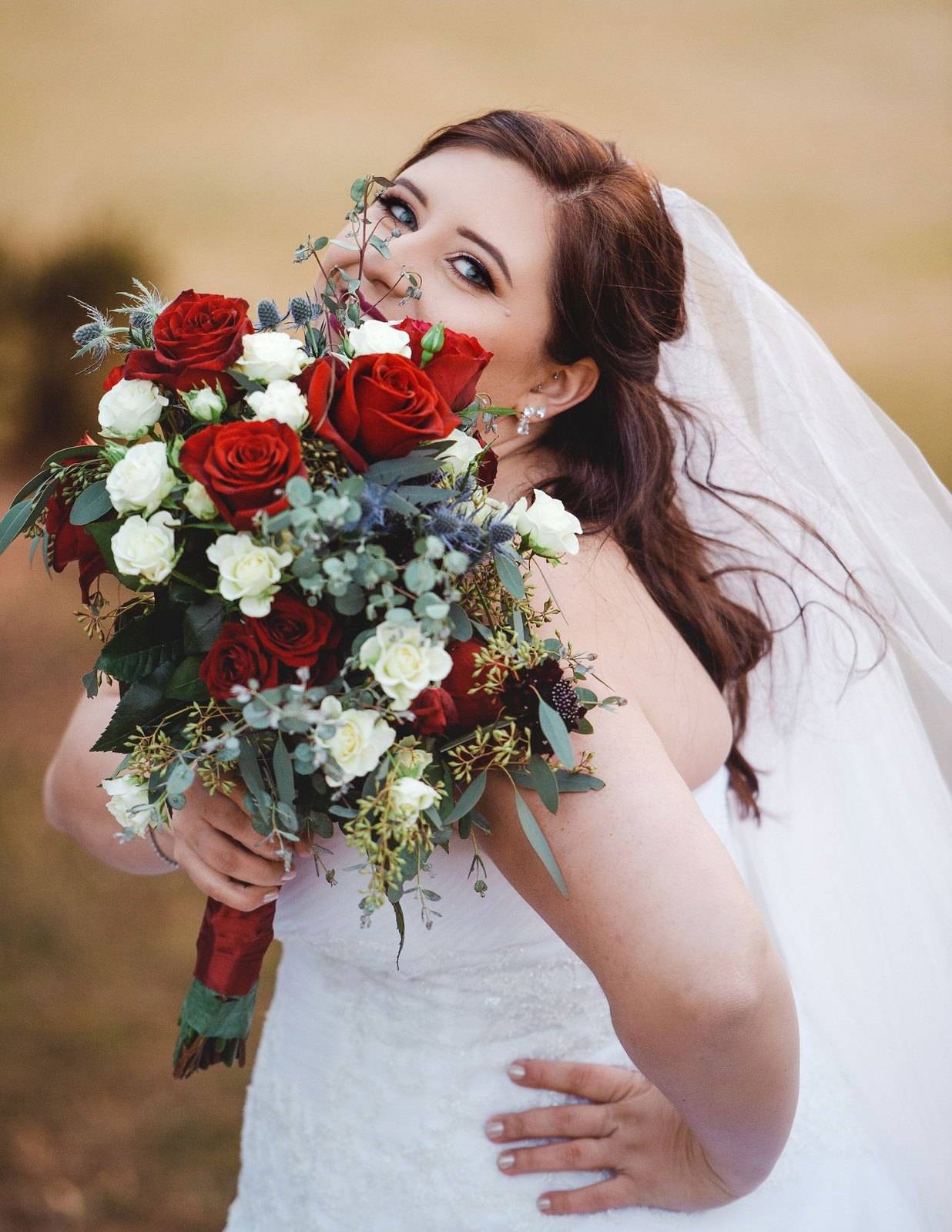 Ashley created this stunner with a mixture of Black Magic roses, cream spray roses, burgundy scabiosa, seeded eucalyptus, thistle, and gunni!
Photo: J. Maness Photography
What's
Included?

Realistic
Floral Budget

What If I
Don't Like It?


What Others
Are Saying

No Risk: If you're nervous about spending $35 bucks on a custom design don't be. You will be speaking to a seasoned florist, not someone with 2 weeks training sitting in a cubicle. However, if you're not happy with your package we will issue a refund. So boom.
Phone Consult with Designer: You'll speak to Amy, Hope, or Abigail for 30-60 minutes going over all the specifics like desired budget, flowers, vases, arches, large ceremony arrangements, supplies, etc.
Pinterest: We'll swoon over the board together, going over all the your favorite parts! Sending links to your venue is also helpful!
Cart: We will build a custom cart for you!
Recipe: You will receive a breakdown of your design.
2 Revisions: Hey, we all change our mind! We will revise your cart and recipe twice.
**Just a heads up, you don't have to buy a Custom Design to ask questions or receive guidance! Especially if you have a pretty good idea of what you want, but just need some quantity advice, or help tweaking a package to fit your needs. Custom Designs are typically for more elaborate build-outs, unique color palettes, or for brides who just want to hammer out the details with an experienced florist. Go to the Contact Page and shoot us your questions and we'll help to steer you in the best direction!**
Cut Florist Quote by 50-60%: Have you gotten a quote from a florist yet? This is helpful because you can expect to save around 50-60% DIY-ing your flowers. So let's say you are quoted $3,000 from a florist, your DIY cost should be around $1,200.
Average Moxie Brides Budget: Flower Moxie's order minimum is $350 but, on average, most brides spend between $600-$1,200. It all depends on the volume of flowers you need!
Price Factors: The biggest price influencers are:

Volume - How many arrangements do you need?
Variety - 10 different types of flowers in a bouquet are more expensive than 3 or 4.
Flower Type - Peonies and ranunculus are more expensive than carnations, greens, and roses

Good Rule of Thumb:

Best to average the following:

Bridal- $115

Maid - $30

Small Centerpieces - $25-35

Ceremony Urns - $60 each
If you aren't happy with your design, we'll issue a refund. It's no risk - so boom! Our designers are knowledgeable florists and we are confident that you'll love your design! Don't believe us? Check out the next tab - what others are saying!
"Are we soul sisters?? Because you CRUSHED IT. I've never been the type to get excited about flowers, but here I am, so pumped for these beauties to be in my hands on my wedding day! I love the mixture you came up with, thank you for listening to my "a little different with a side of greenery" plea! YOU ROCK. Thank you from the bottom of my previously non-floral pumped heart." -Jesilyn
"Do it. Just say "yes" like when your future spouse asked you to marry them. It will save you hundreds, if not thousands, of dollars. Amy is such a funny, professional, floral artist who will help make your vision come alive. Her team was incredibly helpful, especially after a small hiccup that was taken care of in less than one hour. Come on people! That's basically magic! You will not regret going with Flower Moxie for your wedding day flowers. You will not only get gorgeous floral arrangements out of it but also some great memories!"
-Emily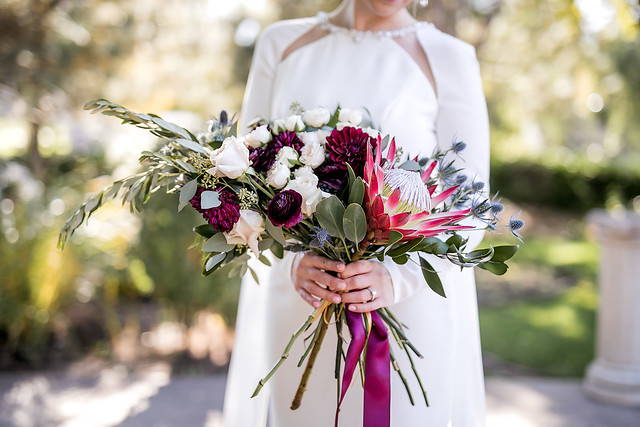 "After I got my fifth or sixth florist quote back that made me wonder how badly did I actually need that second kidney, I found Flower Moxie! The minute I read their website (read; snorted White Claw through my nose all over my cat) I knew these were my kind of people and I could totally do this! I chatted with Abigail via email for a few weeks and we talked about vision, #flowergoals, and my budget until I felt comfortable. By the end of the process, I was asking her opinion on what raincoat my dog should wear, that's how much I trusted her.

I picked up the flowers at a local wholesale market, got them home and sorted without a problem, and then arranged them with my aunt and mom the day before the wedding. Everything turned out awesome and I was for cereal shoving my bouquet into the faces of my guests and screaming "I MAED DIS" while Bruce Springsteen blared in the background.

You can totally do this!"
-Kate
Olivia created this dark and moody vibe and we are feeling it! She used Quicksand roses, white anemones, baby eucalyptus, agonis, thistle, Queen Anne's Lace, Hypnosis carnations, wax flower, silver dollar eucalyptus, and Pampas grass to make this drool-worthy, textural bouquet!
Photo: Kim Butler Photography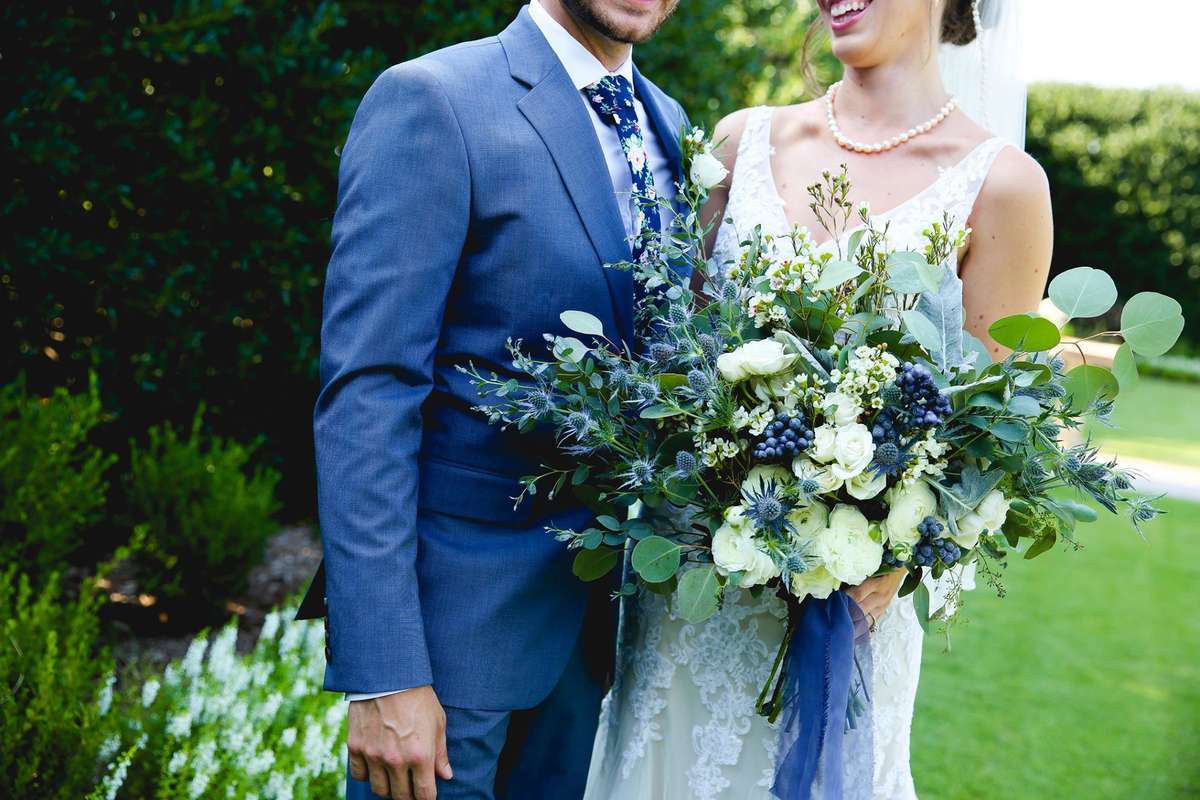 Molly built her bouquets from a mixture of cream ranunculus, silver dollar eucalyptus, thistle, cream spray roses, white wax flower, and gunni eucalyptus!
Photo: Brandon Burton Photography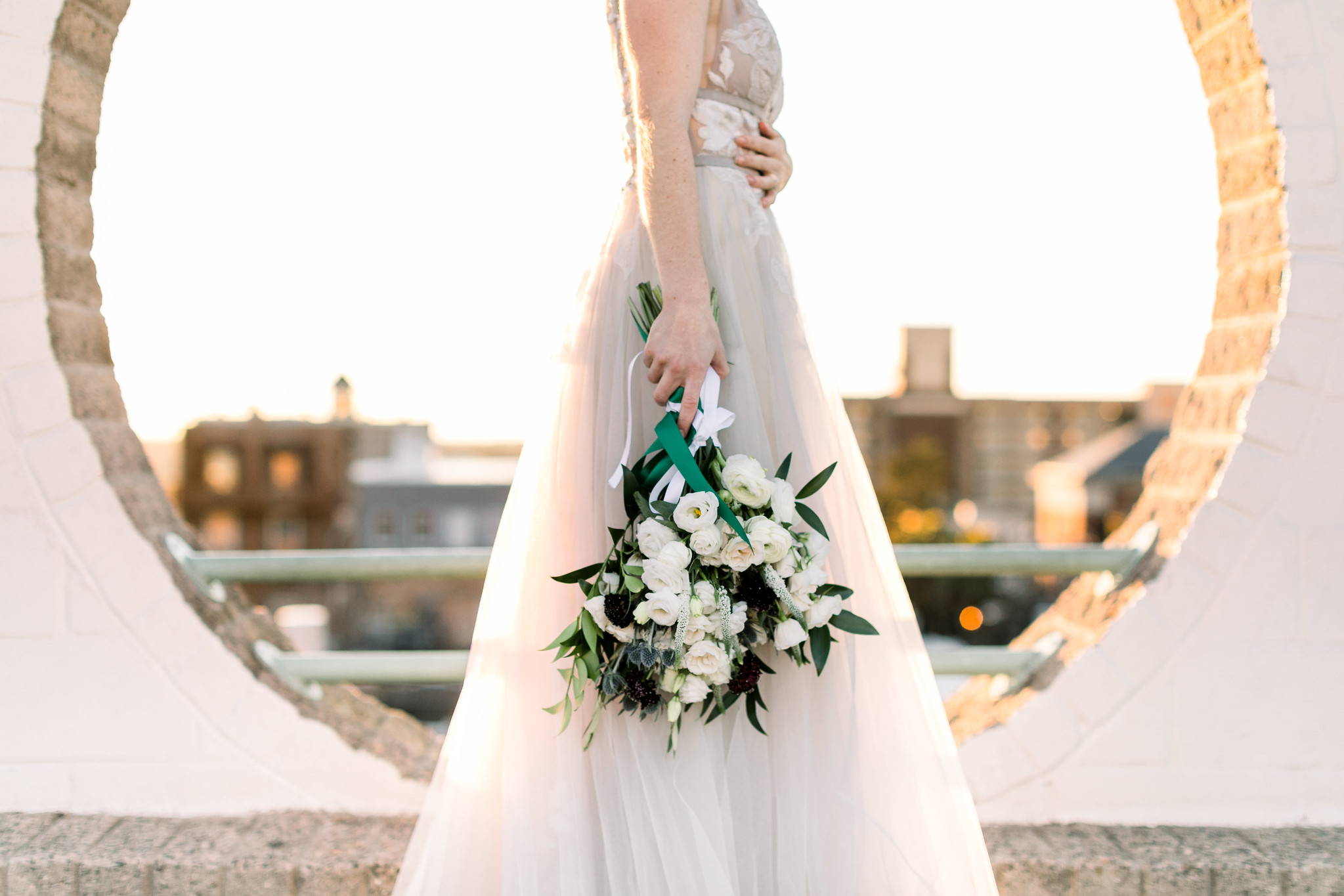 Patricia created her stunning bouquet with white lisianthus, burgundy scabiosa, cream spray roses, cream ranunculus, nagi, white veronica, and thistle!
Photo: Erin Taylor Photography
This very good pupper rocked flowers with help from mom Jessica! She made this pug crown and her own bouquet with a mixture of Tess garden roses, blueberry roses, blush pink & rubicon spray roses, peach carnations, gunni and silver dollar eucalyptus, white and pink wax flower, and burgundy scabiosa.
Photo: Barbara O Photography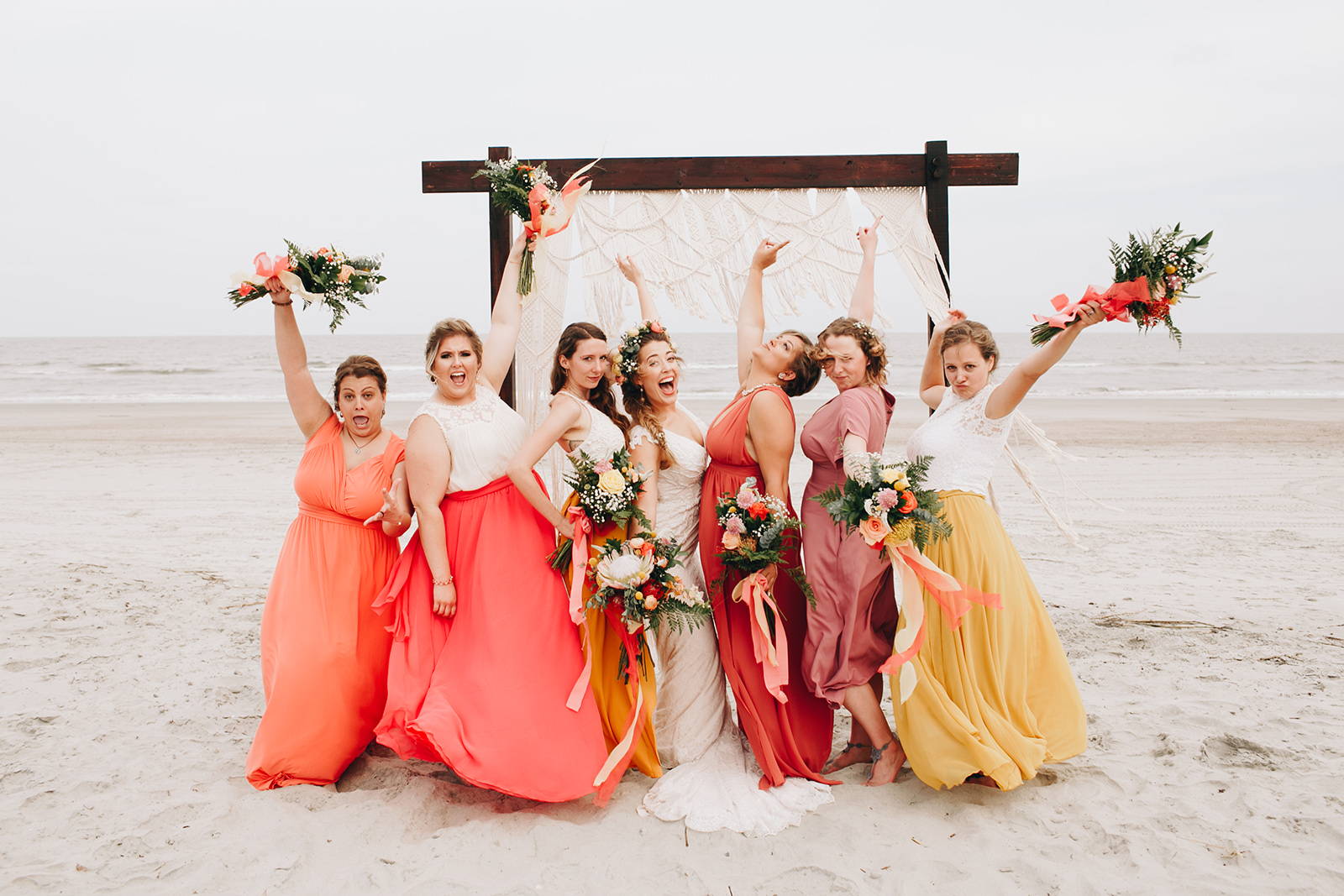 Miranda and her bridesmaids majorly rocked the tropical beach vibe using King Protea, sorbet snapdragons, blushing bride protea, brunia berries, orange and peach ranunculus, thistle, and gunni eucalyptus!
Photo: Photography Anthology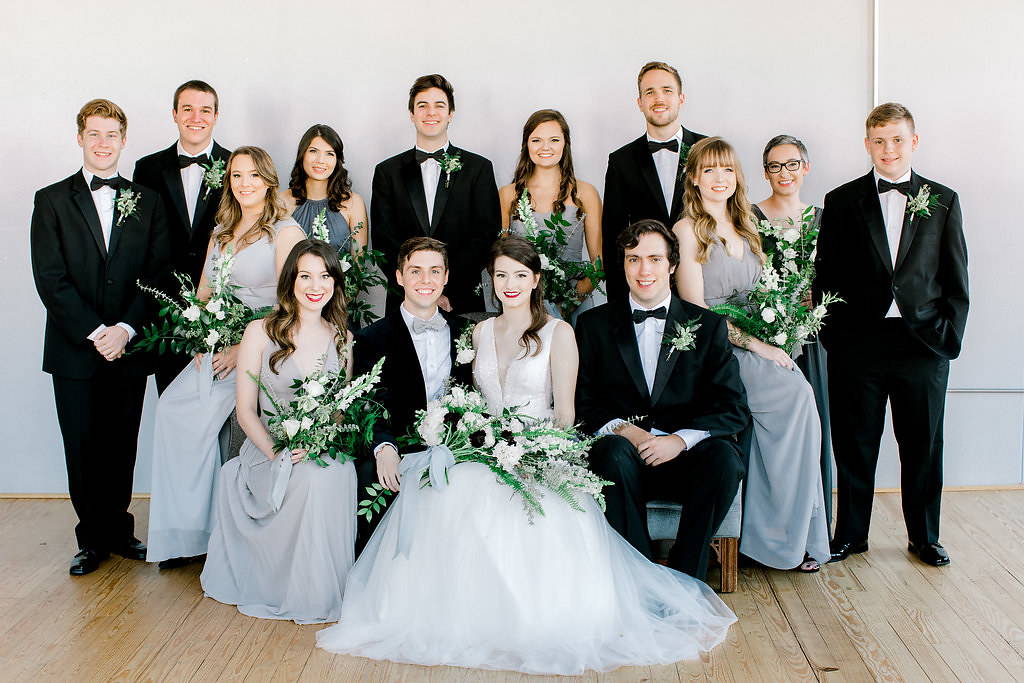 Hayley created this elegant look with cream spray roses, white lisianthus, burgundy scabiosa, cream ranunculus, plumosa, baby eucalyptus, nagi, and sprigs of fern leaves!
Photo: Tracy Enoch Photography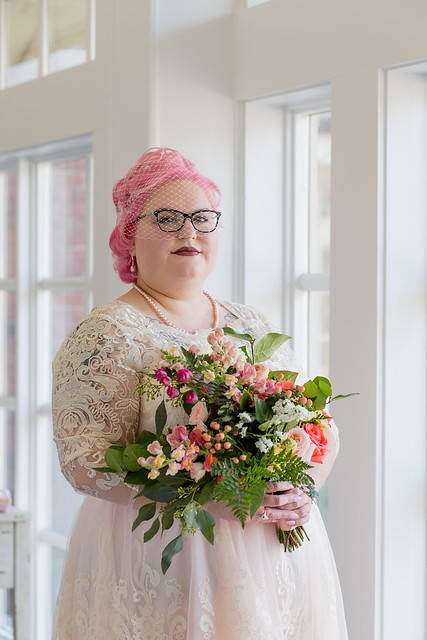 What are you waiting for? Book your custom design consult today! Just add it to your cart, check out, and we will reach out to you ASAP to set up a time to chat about all the things!
---