f
Momimus Prime
Even though much of my childhood was narrated by cautionary tales disguised as rap (thanks DC Talk!), I very much love my mother. She went all redwing blackbird whenever her kids were in the slightest trouble, and she's the reason we got the wedding chapel which inspired the Flower Moxie. But Ima push all that aside to talk about Aliya and her mama, Virginia.
You know when you're watching the Liv Tyler / Ben Affleck animal cracker scene in Armageddon, and the screen goes dark and you catch your beaming face in the reflection and get all embarrassed?
That's how I looked when I was viewing Aliya's wedding photos – ONLY THERE WAS NO SHAME.
Her mother arranged all the flowers you see pictured on this blog.
Together, Aliya and her mom made the bridal veil OUT OF PIECES OF VIRGINIA'S VEIL.
THEN Aliya and her groom, Paul, got married at Aliya's grandparents' home in Williamsburg, PA. THE SAME PLACE HER MOM AND AUNT GOT MARRIED. (Not to each other, weirdos.)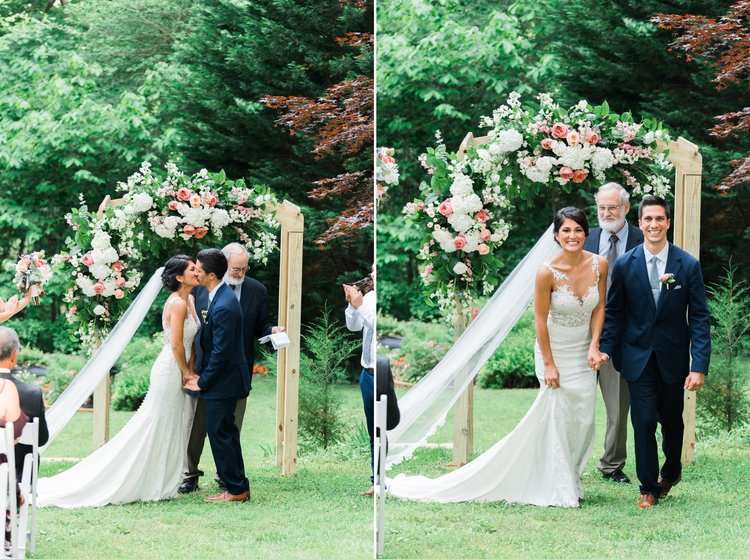 Is this a flipping Lifetime mini-series yet because I just bought a family pack of the good tissues from Costco.

Wedding days like this – where the groom hears his bride coming down the aisle before he sees her because she can't stop giggling, when a grandfather marries the couple under an arbor he built, when the mom basically recreates The Secret Friggen Garden because her love for her daughter is carpeted with flowers…
Well, it really makes me look forward to my own wedding day.
NO PRESSURE, MOM.
Cake: Kirsten Salpini (friend)
Flowers: Virginia Palmer (Mom)