Five Ways to Save Money on Vases
---
5 Ways to Save
Money on Vases
(so you can buy more wine)
---
AUTHORS: TIFFANY HIGHT & MORGAN MORAN / CATEGORY: TIPS & TRICKS  
No one gets excited about buying 30 ft tall monolithic wedding vessels - particularly when it eats into an already tight budget.
Fear not! There are easy ways to scrimp on the vessels you need (but will never think about again after your wedding day).
Below are the 5 best tips to help you save money on your DIY wedding centerpiece vases. Start saving money now, buy more wine later.  
Plastic has come a long way from looking like gumball machine trash to high-end class. (Go ahead and touch the industrial planters outside your local bank - they are likely plastic!) Metal and glass are expensive to manufacture and ship, so plastic can save you serious green. So much that you won't think twice about donating the vessels after your big day.
If you're looking at vases online and don't see a group price listed, EMAIL THE COMPANY AND ASK. Most distributors are happy to discount bulk orders, offer free shipping OR BOTH.
Tip #3: Facebook Marketplace is Your Friend
You can find ANYTHING (vases, buckets, arches, Tamagotchi) on Facebook Marketplace, often times for a few bucks in exchange for saving people an extra few feet of basement space. You can then sell your finds back to Facebook Marketplace at a near break-even rate.
IRL:
One of our favorite stories is from Macy, a Moxie bride who purchased 16 (!) tall, metal vase stands for her wedding. She received a discount for buying in bulk and sold every single one of them on Facebook Marketplace less than 48 hours after her wedding!
>>> Peep her designs - and those metal vase stands - below. 
Tip #4: Get Your Thrift On
Matchy-matchy is a thing of the past. Explore your local thrift shops, ReStores and salvage supply emporiums for previously loved jars and vases. If anyone questions why all of your vessels are different, you can talk about sustainability and Leonardo DiCaprio crying over climate change. (Just aim for similar colors OR shapes for a cohesive yet fluid look.)
IRL:
Our very own former-Moxie-bride-now-beloved-employee Hope saved herself some green by mixing thrift store bud vases with vintage heirloom glassware from her great-grandma and Dollar General finds!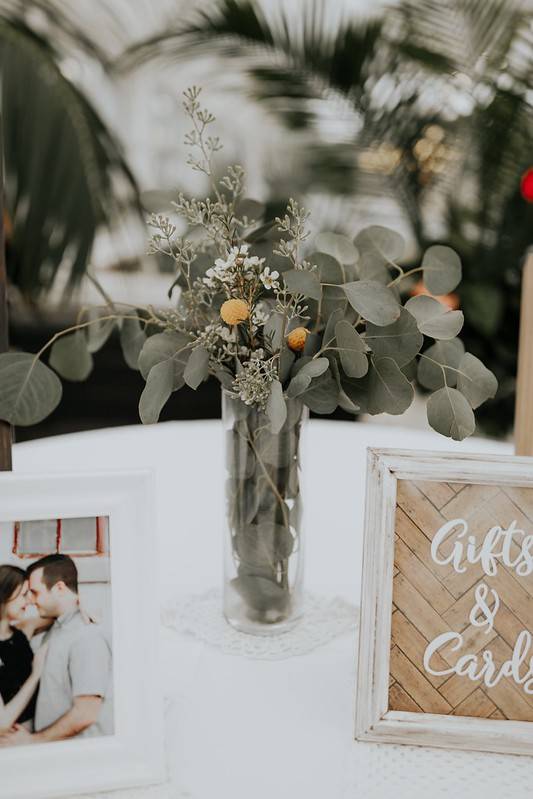 $1 vase from the Dollar Store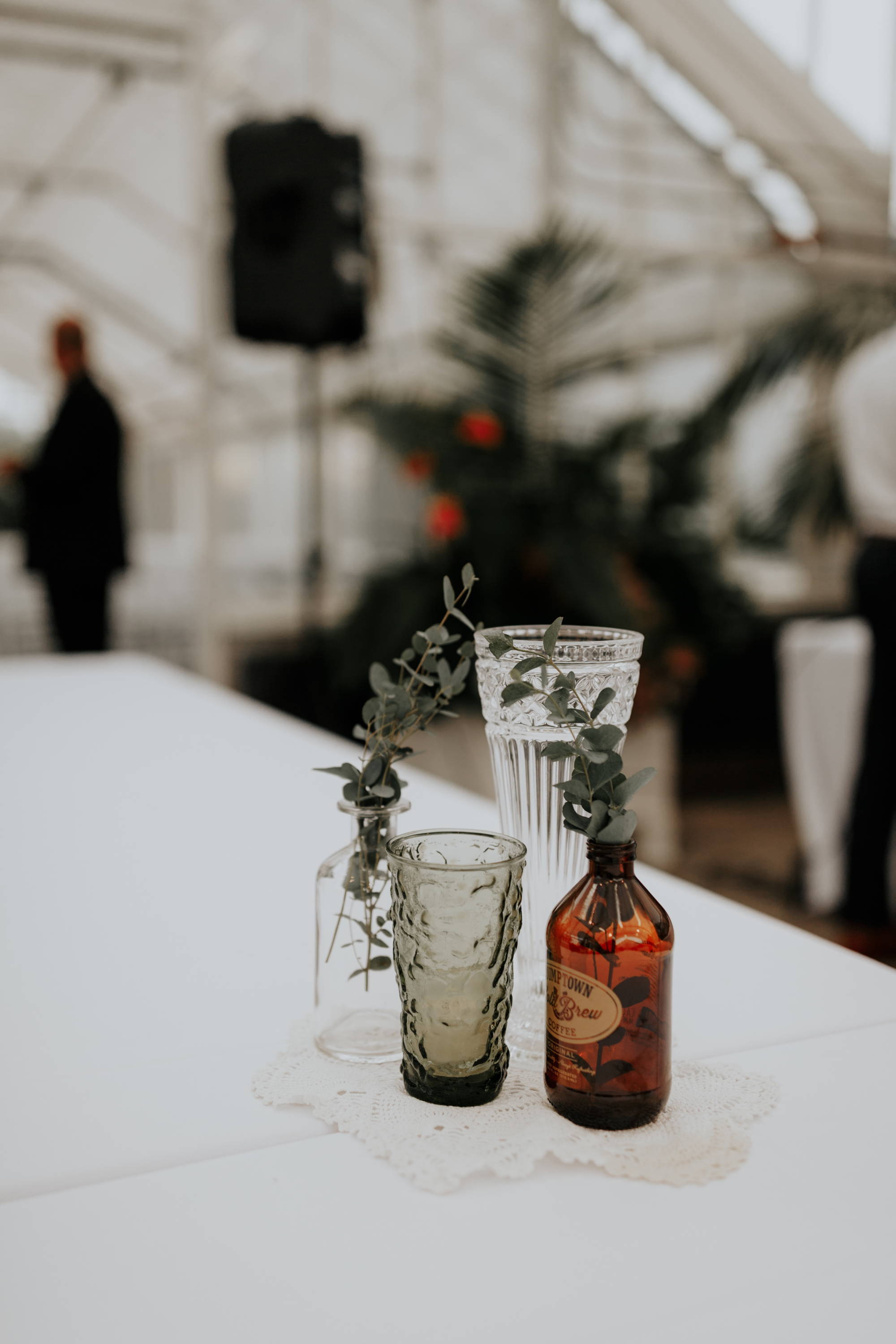 Thrift store vases, cold brew bottle, & vintage glass from Hope's great grandma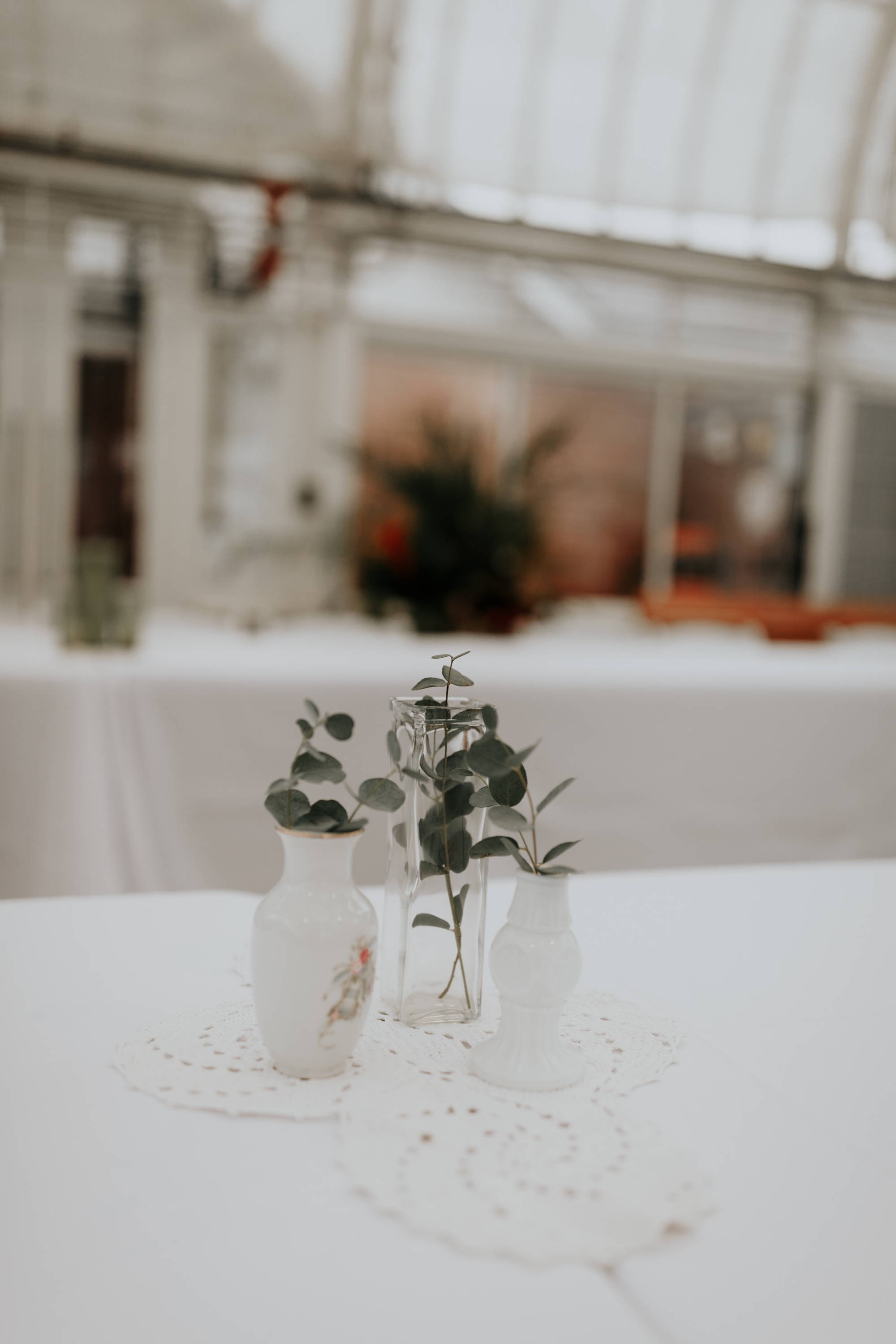 Tip #5: Recycle those pretty bottles
Have Topo Chico or cold brew bottles piling up in the recycling bin? Save all of those pretty bottles & repurpose them as bud vases. Our very own Hope did this at her wedding with cold brew bottles (see below). Just be sure to clean them well before adding your blooms!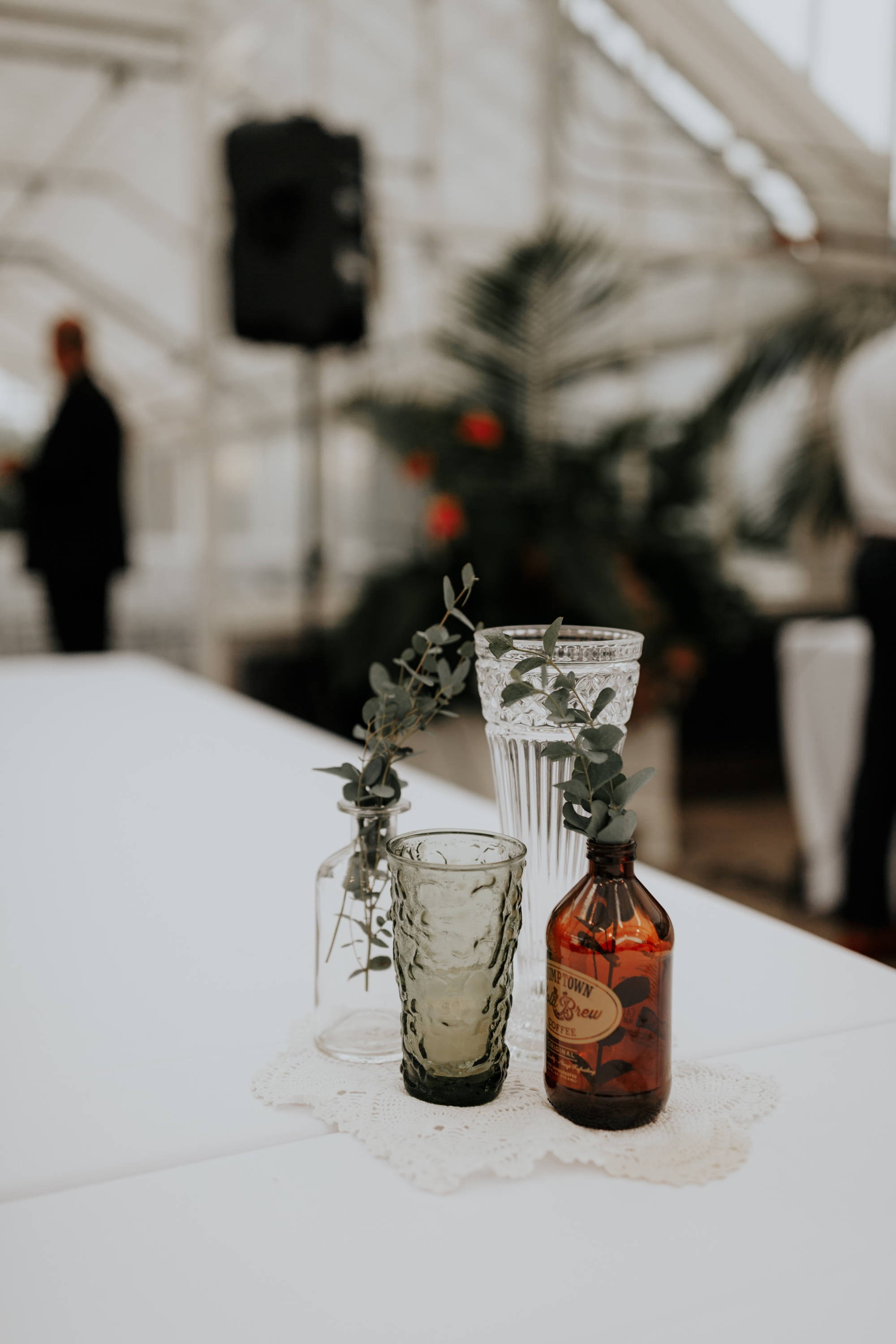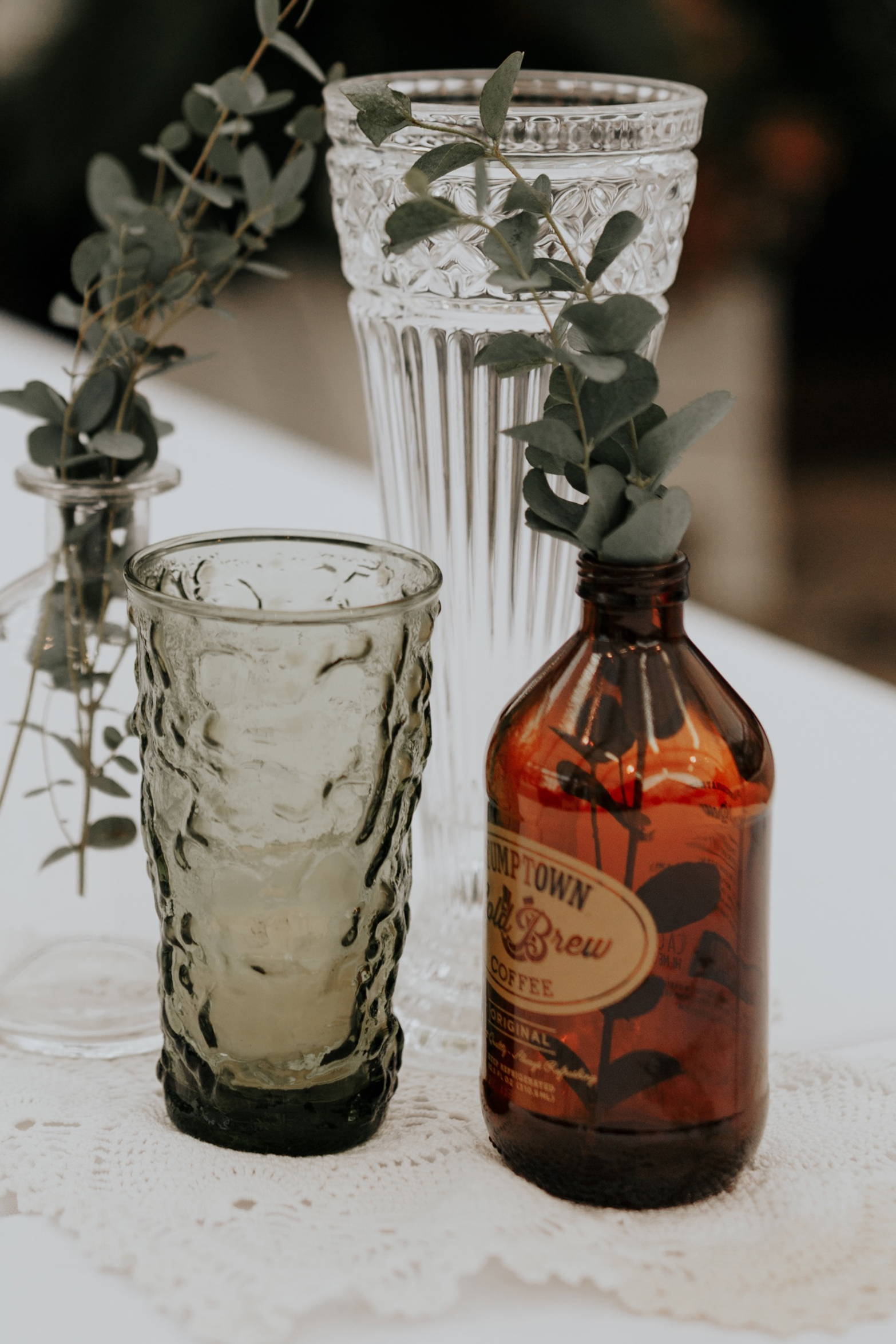 Amber-colored Stumptown coffee bottle mixes beautifully with thrifted & heirloom bottles!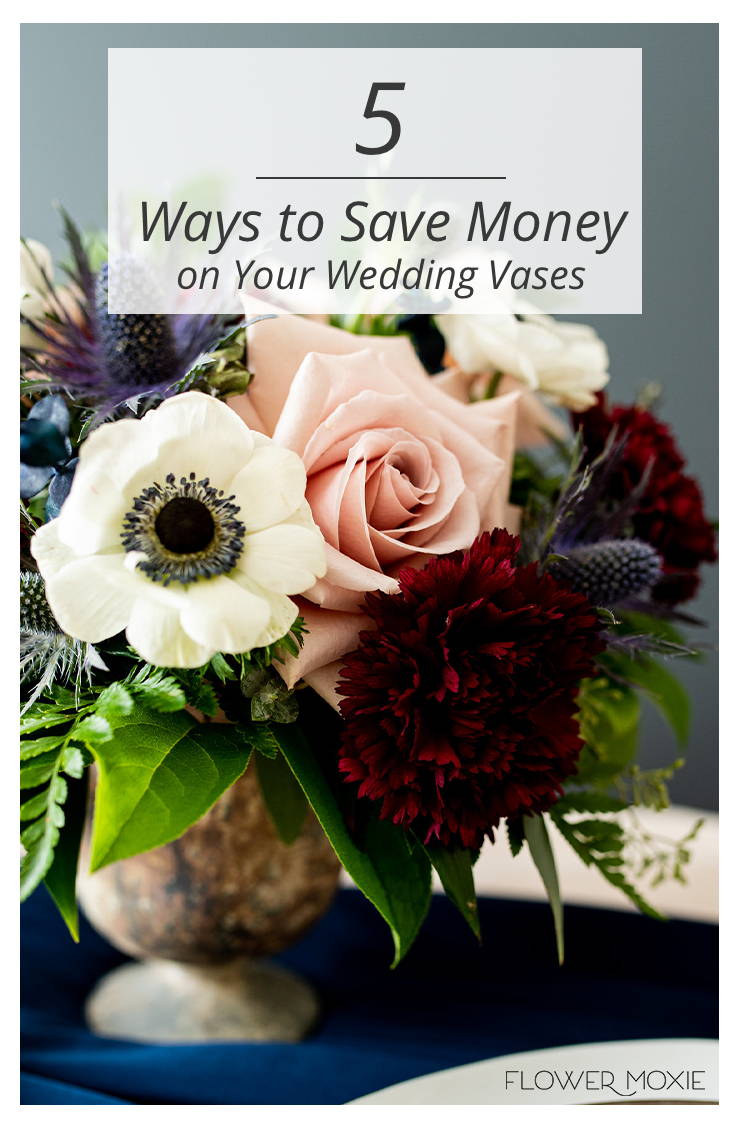 Morgan shares an abode in Wisconsin with her British husband and three non-British cats. She's a creative writer who likes snarky Facebook posts and Googling weird deep sea creatures.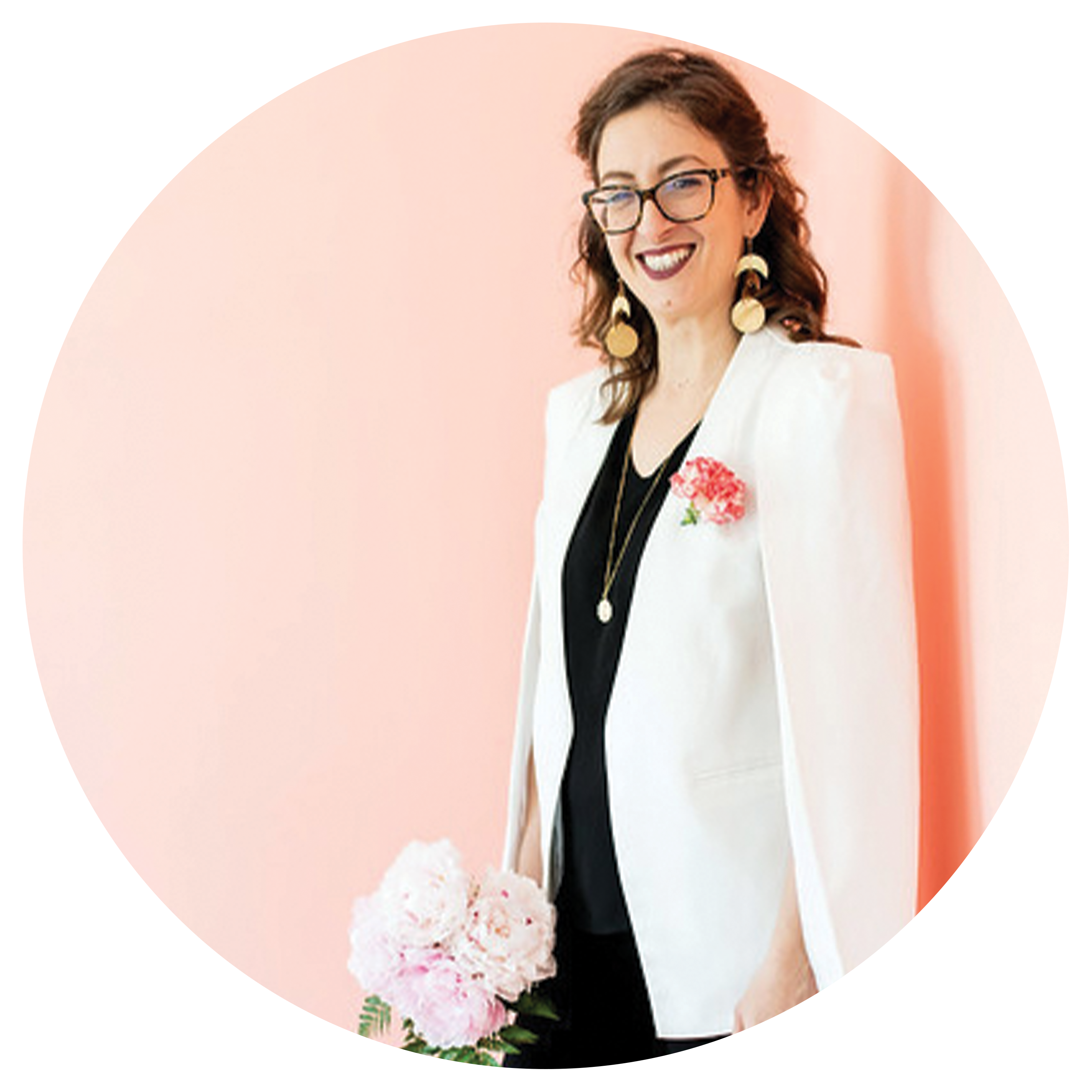 Tiffany is a graphic designer and writer in Oklahoma City who spends too much time looking at pictures of cute dogs on Instagram. Her love language is carbs and is always planning her next slice of pizza.